Yezzaaaaa...tak sangka nih aku dah masok 29 tawon...adeh...lepas ni dah masok 30an lak kan...dah era umur kakak-kakak nih...tua gilo rasa kalau orang tanya umur brape? Hmmm...30...huh!
Bday celebration tawon ni simple-simple je sebab Encik Suami baru discharged dari hospital one day before...tapi sangat tak sangka Encik Suami sanggup gagahkan diri pergi mencari hadiah untuk isteri tu. Terima kasih banyak-banyak yer dear. Lunch pulak dibelanja oleh opismate...dan disambung dengan dinner at my parents house.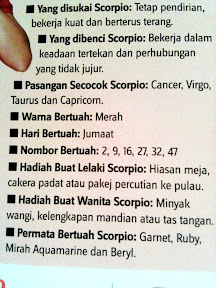 See??? pasangan secocok untuk Scorpio = Taurus. Yesss...Encik Suami memang seorang Taurus. Warna bertuah = Merah? Oh...kena banyakkan collection baju merah ni. Hari bertuah = jumaat? Kebetulan pulak harijadi aku tawon ni jatuh pada hari jumaat. And lastly hadiah buat wanita Scorpio = tas tangan? Eh macam tau-tau jek Encik Suami ni sebab memang dia bagi hadiah handbag ponnn...oooohhhhh....
Dahla end citer pasal birthday tu. korang perasan tak sekarang ni malas gilo aku update blog nih. Tak tau la kenaper...banyak je cerita tapi adeh malasnye nak menaip bagaiii...mungkin blog ni nak kene reconstruct kottt...nak cari layout baru...nak cari header baru...tapi bile nak buattt??? Thats a question only me knows the answer...huhuhu...korang tunggu je la yerk...
- Posted using BlogPress from my iPhone